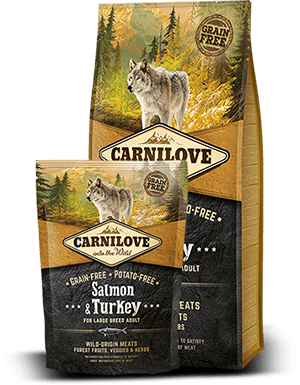 Carnilove Has Been Formulated with Respect for the Natural Origins of Dogs & Cats
The wide spectrum of carefully selected wild-origin meats, such as reindeer, duck, pheasant, turkey, lamb, wild boar and salmon, corresponds to the composition of natural prey and ensures intake of important amino acids.
Forest fruits, vegetables, wild berries, and herbs are natural sources of important vitamins, antioxidants and other essential nutrients. 70 – 75% Wild-Origin Meats.
Grain-free & Potato-free. Get into the wild with CARNILOVE!
The earliest record of cohabitation between dogs and humans dates to roughly 12,000 BC. In coexistence, the composition of the canine diet began to resemble the composition of the human diet, and especially with the advent of agriculture, it moved even further away from the dog's anatomical and genetic disposition.
We've designed CARNILOVE with careful consideration for the historical continuity of cohabitation between pets and humans. The ingredients and their proportion have been developed according to the diet of dogs or cats prior to the advent of agriculture, but production is based on the latest processes and technologies.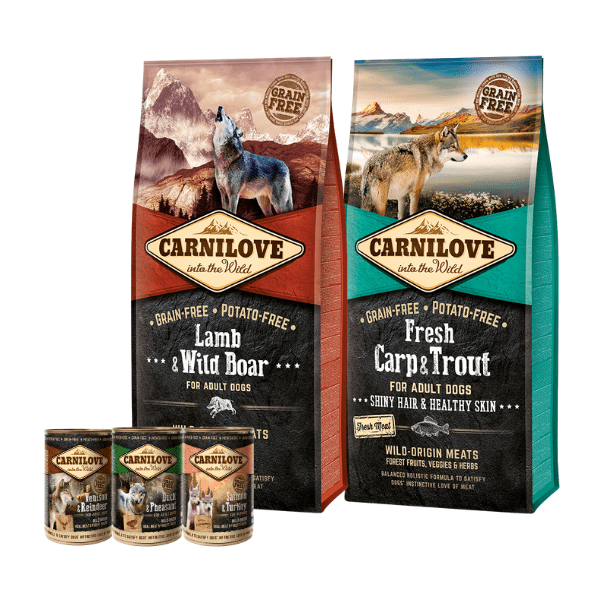 Carnilove Dog Food
Choose from a variety of wild-origin meat recipes such as Duck & Pheasant, Lamb & Wild Boar or Salmon & Turkey. Available as complete dry dog food (80% meat), complete wet food which can also be used as a topper and the fresh dry food range which contains 80% meat, 20% forest fruits, veggies and herbs. All Carnilove Dog foods are grain and potato free.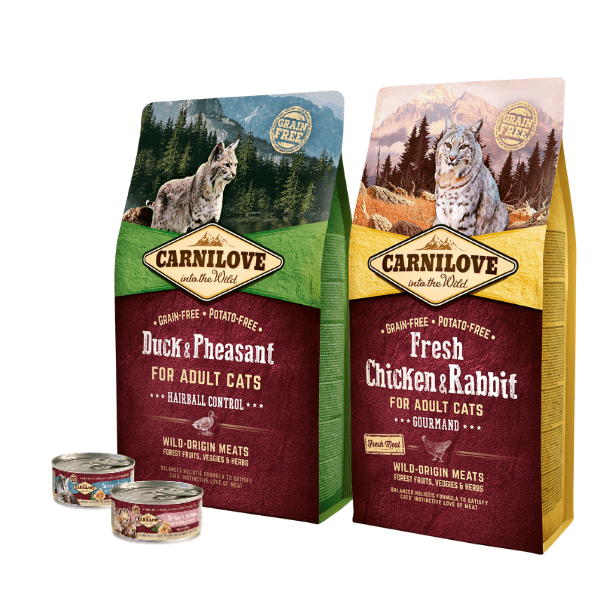 Carnilove Cat Food
All of Carnilove's cat food recipes are bursting with top-quality natural ingredients that are irresistible to even the choosiest of feline gourmands. Our cat foods are available as complete dry food (80% meat), fresh dry food (80% meat including fresh meat) and complete wet food, which can also be used as a topper.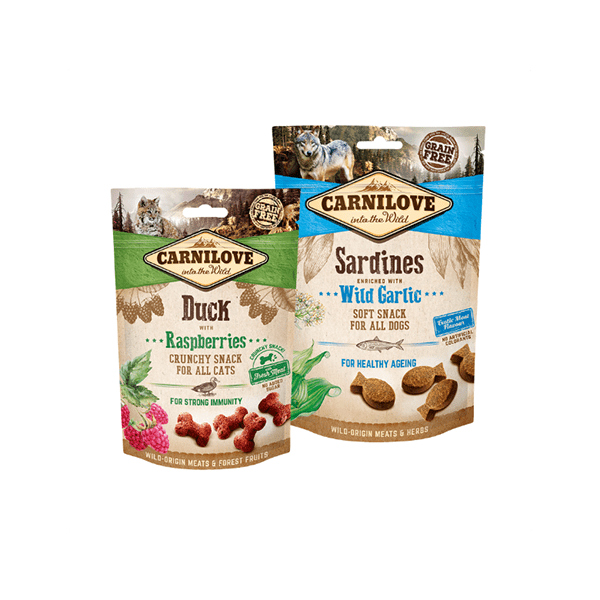 Carnilove Treats
Discover our range of semi-moist and crunchy snacks for dogs and cats. They contain no artificial colours, preservatives or flavourings and are available in a range of delicious flavours.