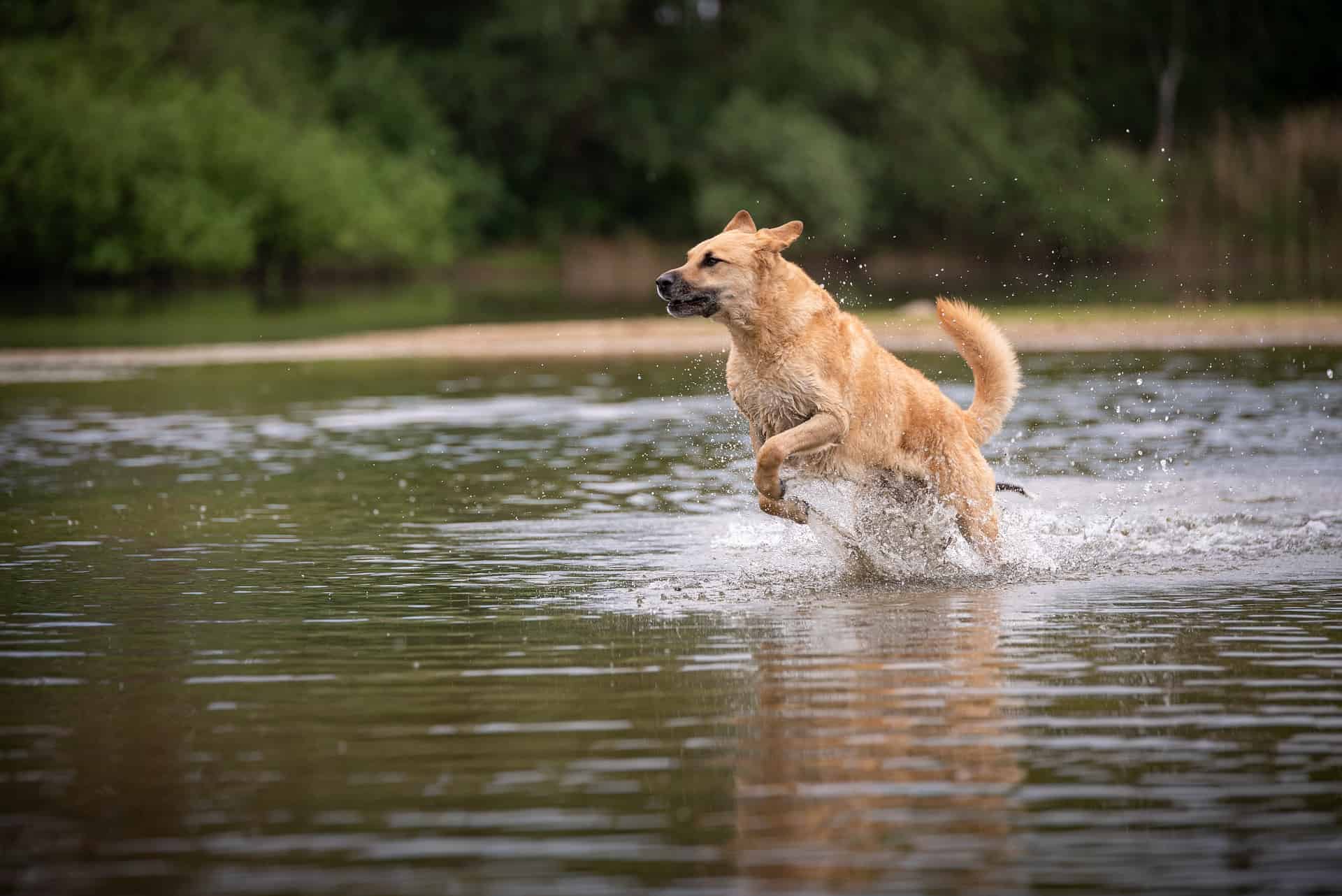 Summer is a great time to get out and about with your canine friend when the mornings and evenings are lighter and the weather is generally better. Many of us will venture further afield with our pets, exploring new areas and activities.
One activity that many dogs enjoy in the warmer summer months is swimming. Although some dogs prefer to paddle than throw themselves in the deep end, swimming can have fantastic health benefits for your dog. It provides a great form of exercise without putting as much strain on joints. It also offers a form of exercise that can be enjoyed when the weather might be too warm to be running around in the sun.
Check It Is Safe
The first rule of any swimming outing with your dog is to make sure the water is safe. Check that there are easy entry and exit points for your dog and that there are no strong currents or hazards under the water level or floating debris. If you are not sure, it is best not to take the risk. For more information about finding a suitable place to swim with your dog, have a look at this article from the PDSA: https://www.pdsa.org.uk/taking-care-of-your-pet/looking-after-your-pet/puppies-dogs/water-safety
Never Leave your Dog Unattended
Even if you feel your dog is a strong, confident swimmer, you should never leave them alone to swim. It is also a good idea to ensure that you dog has good recall in case you spot a hazard.
Check That Dogs Are Allowed
Especially during the summer months, beaches and other bodies of water can have restrictions on where dogs are allowed or if they are allowed off the lead. It is always worth checking ahead before making the journey to make sure you will all be able to enjoy yourselves.
Be Realistic About Your Dog's Swimming Abilities
Just because his breed is well known for their swimming prowess, it does not mean that your dog will instinctively swim better than Michael Phelps! Equally dogs that are not well known for liking the water may enjoy a good doggy paddle. You may also find that even a super fit dog is exhausted after a relatively short time swimming if this is not something they do regularly. Fitting your swimming plans around your dog's abilities will make it much more enjoyable for everyone.
Check for Blue Green Algae
Blue green algae is more common during warm, dry summer months in non-flowing bodies of water such as lakes or ponds and it is toxic. It is a term used to describe a type of bacteria that lives in water and when clumped together looks like algae or a blue-green sheen on the water. You can find out more on this page from the Blue Cross – https://www.bluecross.org.uk/pet-advice/blue-green-algae-and-its-dangers-dogs
Keep Up To Date With Vaccinations
Leptospirosis is spread through rat wee and contaminated water. You can take steps to avoid this risk to your dog by vaccinating and also making sure you avoid letting your dog swim in places like canals or areas of stagnant water.
Look Out For Nesting Birds & Wildlife
Look out at certain times of year to avoid disturbing nesting birds or other wildlife along the waterways. Organisations such as the National Trust and Wildlife Trusts do helpfully put up signs on the land they manage if they are aware of nesting birds in the area.
Avoid Fishing Lines
Although the majority of those fishing are enthusiastic about preserving the pristine conditions of the lakes or rivers they visit, there is sometimes an exception to the rule! Debris left behind such as fishing lines and hooks can be dangerous for any dog (or human!) swimming and the area is best avoided until you can be sure it is clear.
Keep Cool And Hydrated
You may think that because your dog is in the water, they will manage this one themselves! Always keep a bottle of fresh water handy for your dog and try to make sure that they are not drinking salt water if you are at the beach. To avoid upset tummies it is best for your dog only to drink the water you have bought with you. For young and energetic dogs it is also a good idea to make sure they are taking regular breaks, especially if they are not used to swimming, to ensure they are not over exerting themselves.
Think About Bringing A Picnic!
You could find that your local beauty spot or swimming hole is very busy, especially on warmer days. Be prepared to visit earlier or later in the day to find a quieter time, or bring a picnic and something to create some shade if the sun is beating down. Relax and take your time, venturing into the water when it is a little calmer. Make sure to pack some Carnilove treats for an after swim treat for your favourite pooch.