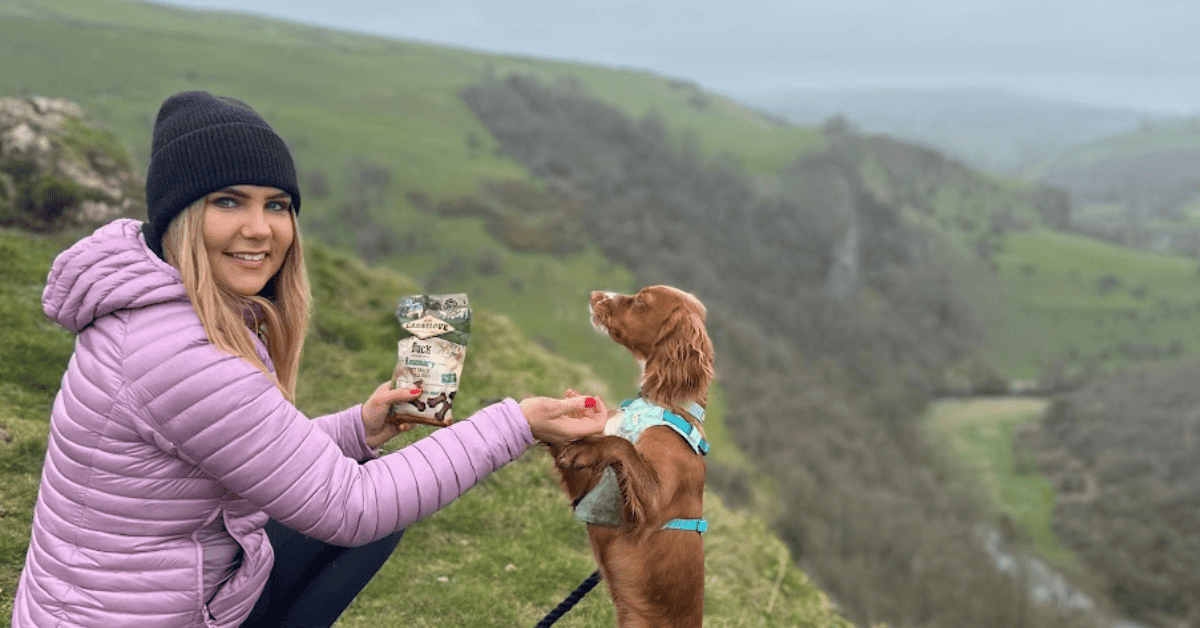 There's nothing quite like hitting the trails and exploring with your furry friend! There are so many mental and physical benefits, not only to hiking but also with having the best company and sharing those special experiences with your dog.
However, before you hit the trails, it's important to make sure that you and your pooch are prepared for the journey ahead to stay safe and comfortable whilst hiking.
Here are my top ten tips for hiking with your dog:
Know the trail:
Before you hit the trail with your dog, research the route you plan to take. Make sure it's suitable for your dog's size, age, and ability level. Consider factors like the terrain, elevation gain, and weather conditions. Some trails might even prohibit dogs altogether, or require them to be on a lead at all times.
2. Pack essentials for your dog:
Just like you, your dog will need food, water, and shelter on the hike. Hiking can be a tiring activity for your dog, so it's important to keep your dog energised. Pack enough food, treats, and water for both you and your dog.
Rydal's favourite snacks are tasty Carnilove Duck, enriched with Rosemary, it's the perfect complement to your my dog's regular diet and a great on-the-go treat sized bag for popping into your pocket or rucksack. These treats also help as positive reinforcement for good behaviour on the trail.
I always take her dinner in my rucksack too, just in case we're out hiking longer than planned or in case of an emergency! Rydal loves the Carnilove grain and potato-free Salmon & Turkey Puppy food mixed with Salmon & Turkey wet food, both rich in omega-3 unsaturated fatty acids. Salmon is a good source of highly digestible proteins, perfect for keeping the energy up on longer hikes! You can also consider bringing a collapsible water bowl for your dog to drink out of.
3. Put your dog on a lead when needed:
Even if the trail allows off-lead dogs, it's wise to keep a lead in your rucksack in case there are sections of the hike that require you to walk on the road or scramble.
4. Watch out for wildlife:
Depending on the trail, you may encounter wildlife like pheasants or farm animals. Keep an eye on your dog and keep them close to you if you see any signs of wildlife. If you're hiking in an area with ticks, check your dog regularly for signs of tick bites or Lyme disease.
5. Make sure your dog is fit:
Hiking is a cardiovascular exercise, and your dog needs to be in good shape to keep up with you. Rydal has only just turned 1 and although she naturally requires a lot of exercise being a working Cocker Spaniel, it's been a long process of ensuring she's mountain ready. I gradually increased her mileage and elevation to ensure she can handle longer hikes. If you have a puppy, it's important to follow the rule of one to two sessions of five minutes walking for each month of age to ensure their joints and limbs don't get damaged.
6. Be prepared for emergencies:
Bring your phone, a first aid kit, and any necessary medications for your dog on the hike. Familiarise yourself with basic first aid techniques for dogs, such as how to treat cuts or insect bites.
7. Check the weather forecast:
Even if the forecast calls for clear skies, be prepared for changes in weather. The weather at sea level can be the total opposite to when you gain elevation if you're hiking high in the hills or mountains. Bring extra layers and a waterproof dog jacket to keep your pup comfortable in case of rain or sudden temperature drops.
8. Pay attention to your dog's behaviour:
Dogs can't tell you when they're feeling sick, tired, or overwhelmed. Pay attention to your dog's body language and behaviour throughout the hike, and take breaks if needed. Bring plenty of water and take frequent water breaks to keep your dog hydrated.
9. Respect other hikers:
Not everyone loves dogs as much as you do. Be respectful of other hikers by keeping your dog under control, picking up after them, and avoiding crowded areas.
10. Most importantly, have fun:
Hiking with your dog can be a wonderful bonding experience for both of you. Take time to enjoy the scenery, explore new trails, and have fun with your pooch.
Hiking with your dog can be a rewarding experience, but it's important to be prepared and take safety precautions. By following my top tips, you can ensure a safe and enjoyable adventure with your furry friend. Happy hiking!
Blog written for Carnilove.co.uk by @geordie_hiker on Instagram