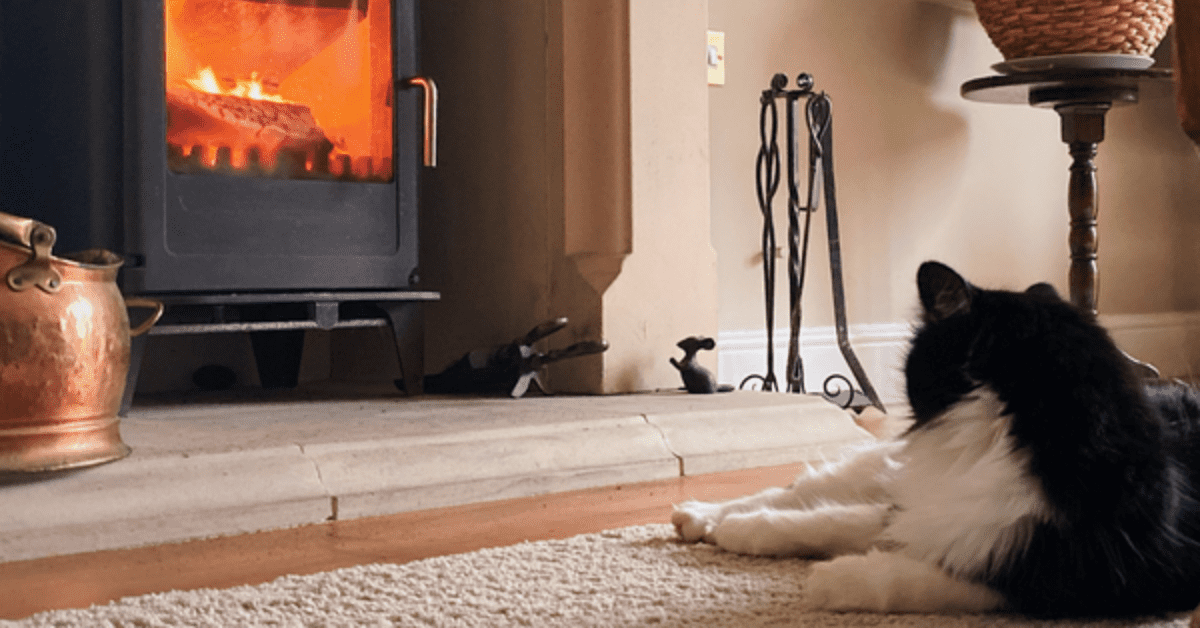 As the clocks go back, the nights draw in and the hours become darker, it's time to think more about your cat and the extra care that should be taken to keep it safe and healthy over winter. Here are some top tips:
A reflective quick release collar – As the nights draw in, dusk and dawn (when cats tend to be most active outside) coincide with rush hour which results in more road traffic accidents for cats. Illuminated/reflective collars will make them more visible to cars. A collar with a bell will serve as a warning for unsuspecting animals and allows humans to be able to hear them coming and going and also find out if they are hiding in dangerous places. A quick release cat collar (also known as a breakaway collar) has a special plastic clasp designed to release quickly if your cat gets caught on something. Quick release cat collars are the type recommended by UK vets and animal welfare organisations.
Watch the comfort food/treats – People tend to feed themselves and their cats more during the winter months. In addition activity levels tend to reduce. The combination can lead to cat obesity & diabetes. Keep your cat at a healthy weight by monitoring their food intake and feed them according to the guidelines included with their food. Ensure treats are protein rich and have no added sugar. Carnilove offer a range of delicious grain free cat treats that are available in both crunchy and semi-moist options.
Increase playtime Discover more ideas for entertaining your cat at home.
Keep your cat protected against fleas – fleas tend to gravitate indoors in winter and thrive where it's nice and warm. If fleas aren't stopped, they'll quickly lay eggs on your cat's fur which then fall off all over the house. Ensure your cat is protected and treatments are up to date.
Brush your cat regularly – During autumn, your cat will shed their summer coat to allow for a thicker, warmer coat for the cold weather. While cats do a good job of grooming themselves, some will need extra help to keep their thick coat in check and prevent matting. Regular brushing two to three times a week with a suitable brush or comb will help remove loose fur and prevent knots and cats will need daily grooming to keep their coat in great condition
Keep antifreeze away from your cat – Antifreeze is highly poisonous to cats. Ingestion can lead to kidney damage and can even be fatal in extreme cases. To keep your cat safe and protected, make sure you don't leave any spills on your driveway or garage floor and store it somewhere they can't get to.
Watch out for seasonal allergies -Cats suffer from seasonal allergies, just like humans. Constant paw licking, body rubbing, excessive scratching, hair loss, skin rashes, and a "flaky" or "greasy" feeling coat may be a sign that your cat is suffering from allergies. Central heating and extreme temperatures can dehydrate their skin and cause dandruff. If changes are spotted in their coat, then consult your vet for advice.
Keep them warm – Most cats prefer to snuggle up inside during the winter but if yours is the outdoors type make sure they always have a warm place they can go to at all times. And, if it's really cold, keep them inside – pet cats that live in your heated home, aren't used to the extreme cold and can develop hypothermia and frostbite, so it is very important to keep an outside cat warm in the winter.
Consider a litter tray – Cats that usually go to the toilet outside will always need a

clean litter tray

available when kept indoors during winter months. This is especially important when there's snow on the ground and overnight.
Look out for toxic food and plants – Poinsettia and lilies are popular Christmas plants but they're actually poisonous to cats so should be avoided. Keep tinsel and festive decorations out of reach. These can become entangled in your cat's gut if ingested and could lead to serious health problems and a trip to your vet!
Check the cat flap is clear – When snow is deep cat flaps can become blocked, so you'll need to check them to make sure that your cat can get out and, more importantly, back in again.
Arthritic Cats – If your cat has arthritis, the cold can increase inflammation in their joints. Provide warm, comfortable areas for them to rest, and make it easier for them to access their favourite places. Your vet will be able to offer more advice in supporting joint health during winter months.
Last of all, don't forget to make the most of the time you get with your cat in the winter. When they won't brave the cold outside, enjoy those warm, cosy nights curled up with them in front of the fire.…. just remember – not too close