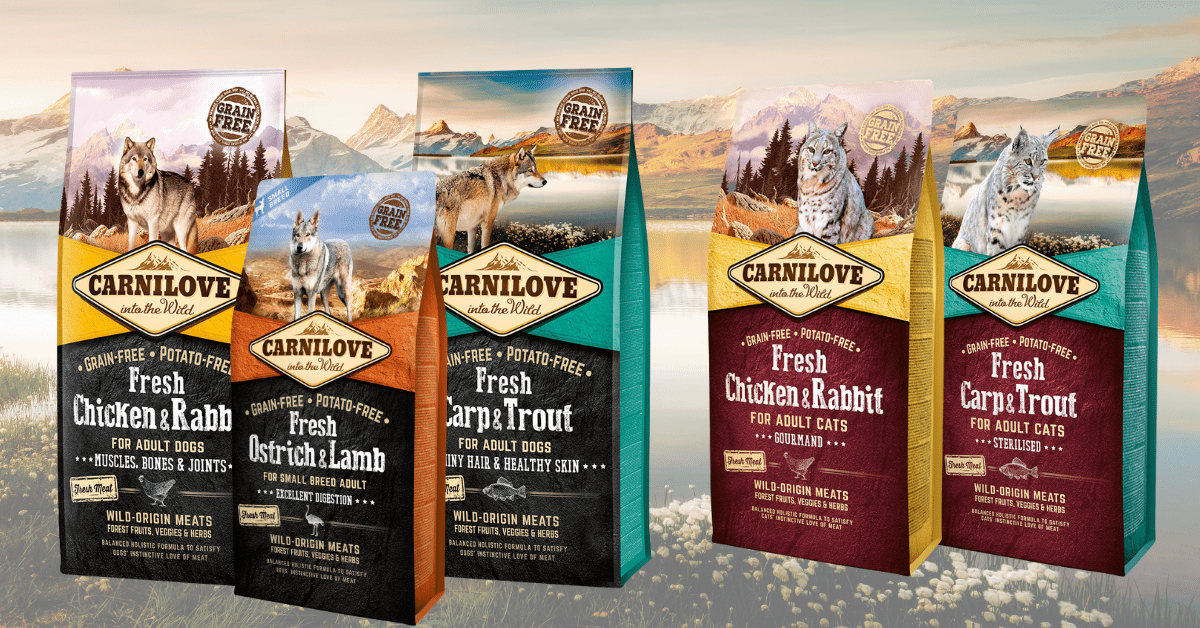 All Carnilove recipes follow the principal that dogs and cats should be fed with respect for their natural origins. Which is why all of our recipes have a high meat content, supported by beneficial vegetables, fruits and herbs and don't contain any artificial colours or preservatives.
Carnilove Fresh also includes fresh meat ingredients in kibble format, making it especially hard for cats and dogs to resist. Aside from tasting good, why else should you choose Carnilove Fresh for your dog?
Nourish muscles and tissue
The Wild-Origin meats in Carnilove Fresh formulas are rich in nutrients, unsaturated fatty acids and amino acids, all of which nourish the muscles and tissues. All Carnilove Fresh recipes contain 80% meat.
Great for skin and coat
Carnilove Fresh Carp & Trout, available in formulas for cats and dogs, is a unique composition of proteins that are easily digestible due to shorter muscle fibres, as well as providing a natural source of essential omega-3 fatty acids, which are highly beneficial to the quality of the skin and coat.
Easily digestible
Carnilove Fresh Chicken & Rabbit's high protein content encourages the proper development of all tissues and the easily digestible rabbit meat makes this recipe suitable for any carnivore. Rabbit is also very low in fat, making it exceptionally lean. Available in formulas for cats and dogs.
Enticing flavour in small bite kibble
Carnilove Fresh Ostrich & Lamb  is low in fat and cholesterol but high in protein. Ostrich meat, often referred to as the healthiest red meat, is an excellent source of energy and amino acids which, together with lamb, provide your dog with an exquisite flavour.
Our recipes include lots of other beneficial ingredients:
Digestive health
Pumpkin is a natural source of high-quality fibre, which promotes digestive tract health and ensures efficient absorption of important nutrients
Supporting immune systems
Ginger Root is a powerful natural wonder that protects the body against inflammation and provides the foundation for immune system health and efficient metabolism
Smelling sweeter!
Sage helps reduce flatulence and supports digestion, plus its anti-inflammatory and antibacterial properties help to maintain healthy teeth and gums.
Supporting eye health
Sea Buckthorn is rich in antioxidants which fight free radicals and provides a source of vitamin A, which can support eye health.
Carnilove Fresh provides your pet with balanced nutrition rich in fresh meat combined with a variety of vegetables, berries, and herbs.  Now you just have to decide which flavour of Carnilove Fresh your pet will try first!