NEW Carnilove Cat Pouch Quail with Dandelion (24 x 85g)
In Stock
£32.40
Rich in Quail enriched with Dandelion
Complete food for sterilizedcats.
Package: 85g
Composition
85% meat in fillets (71% chicken, 14% quail), 12% broth,1% dandelion, 1% linseed oil, 0.5% minerals, 0.5% vegetable starch.
Analytical Constituents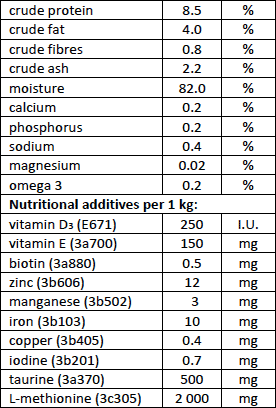 Contains natural antioxidants.
Metabolizable energy: 810 Kcal/kg
Feeding Guide

For best flavour, serve at room temperature. Make sure your feline companion always has fresh drinking water available. The opened package can be frozen, or must be stored in the fridge and used within 3 days.